Charlotte Evans February 3, 2022
Mental health awareness in the workplace is essential and is becoming a key focus within the UK HR industry. As many as 1 in 4 people in the UK experience Mental Health issues in their lifetime. Therefore, it's important for workers to know how to identify these issues and how to support their colleagues and employees.
Work can often be the main cause of mental health issues. Whether it's due to work-related stress, anxiety, workplace bullying and more. Therefore, addressing mental health and positively promoting it to your employees, should be a priority and will positively contribute to employee motivation and satisfaction. 
Table of Contents
How to Improve Mental Health in the Workplace?
Mental health issues can have a negative impact on the performance of an employee and consequently, affect business. Therefore, if your employee is experiencing stress, anxiety, depression or another form of mental illness, it's crucial that you are familiar with the ways that you can support your employee's mental health before it negatively affects their performance.
The first step to supporting mental health in the workplace is by treating mental and physical health with the same importance. 
Three simple yet effective ways of promoting Mental Health Awareness and supporting your employees are: 
Scheduling regular one-to-ones between managers and employees, offering employees support.
Organising Mental Health training programmes and workshops, such as Mental Health Awareness, MHFA etc.
Assigning Mental Health roles within your teams, such as Mental Health First Aiders, Workplace Mental health Champions and more.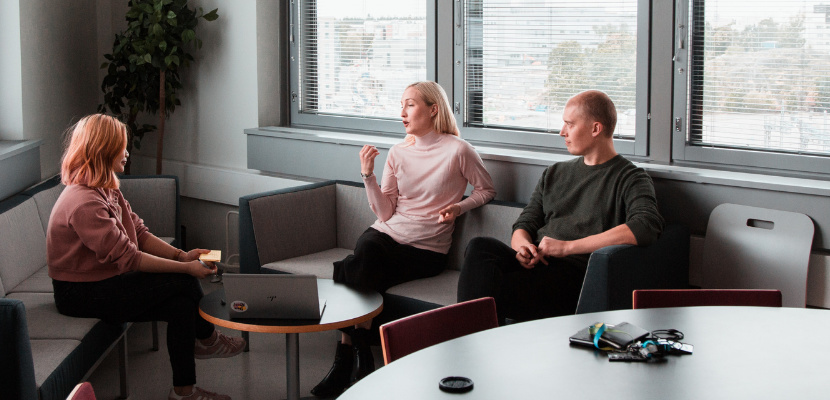 Why Is Training Important in the Workplace?
For a long time, there has been a huge focus on First Aid at work but unfortunately not on Mental Health First Aid (MHFA) Training. Thankfully, in recent years numerous organisations have curated training courses to help employees qualify as Mental Health First Aiders. And by implementing these programmes into your workplace, you are offering your employees the chance to speak to someone and overcome these issues before they become problematic.
Alternatively, workplace training isn't the only way you can promote mental health awareness in the workplace. You can also do this by adopting simple yet effective practices such as regular one-to-ones, employee satisfaction surveys, free online screening tools, encouraging regular discussions and so much more.
There are many options available for Mental Health Training, including the following Government-funded courses:
Benefits of Mental Health Training
In the UK alone, we lose 70 million working days yearly due to mental health problems. And as a result, this loss costs employers a hefty £2.4 billion each year.
UK workers are looking for employers that promote and support workplace diversity and employee wellbeing. Therefore, employers that implement Mental Health Training in the workplace will easily attract, hire and retain UK workers. Therefore as an employer, it's essential to put the needs of your employee at the forefront of your business and to ensure you are leading a happy and healthy team and workplace. As we mentioned, healthy doesn't just cover physical health but mental health too. 
How to Avoiding Workplace Discrimination?
As it stands, there are no specific laws that focus on mental health in the workplace. However, there are various laws that support employee wellbeing.
Equality Act 2010: "A mental health issue can be considered a disability if it has a substantial or long-term effect on a person's normal day-to-day activity."
Duty of Care Act 2014 – Always act in the best interest of individuals and others. Don't act or fail to act in a way that results in harm.
Can You Dismiss an Employee Due to Mental Health Issues?
In brief – the answer is yes. If your company is unhappy with the performance of an employee due to a mental health illness. By law, you must find a fair reason for dismissal. This reason may be that the employee is incapable of carrying out their job properly or the absence of the employee is affecting the business performance.
Alternatively, if the employee's mental health disorder is classified as a disability, unfair mental health dismissal is illegal. In this situation, an employer must make any necessary changes to how the employee is working in order to improve their mental state. Employers can do this by adjusting working hours, offering appropriate aid such as software, or physical features in the office, such as disability aid.
All in all, the mental health and wellbeing of your employees should be a priority in your company. And even more so after the pandemic. By going the extra mile and listening to the needs of your employees, your support will have a considerably positive effect on your retention rate, company culture and brand image.
About Factorial HR 
We provide intuitive HR solutions for SMEs around the world. Our tools automate and centralize administrative tasks to provide insights and help organizations run more smoothly. Founded in Barcelona in 2016, Factorial now serves more than 3,000 growing businesses in 65+ countries. While we got our start as time tracking and time off management software, we quickly saw that HR professionals were juggling too many single-function tools. It became our mission to be the one-stop shop for all people processes. We now offer solutions for HR analytics, document management, performance appraisals, goal-tracking, company culture– all in one effective, easy-to-manage platform. In short, we help you take care of your people.
Website
Exclusive content category: